Sản phẩm bình nước nóng, bình nóng lạnh,máy nước nóng tốt của Ferroli
Ferroli air purifier and ionizer FAP-48D
Super clean filter - Quiet operation - Power saving
HEPA membrane technology with 4 multi-function filters removes 99.5% of fine dust PM2.5, allergens.

Intelligent air quality sensor and automatic filtration mode

Kills bacteria, mold, odors with high density ionizer technology

Adjustable 3 wind speeds

Warning of filter element replacement

Convenient touch screen and remote control

Suitable for room spaces up to 24m2
Ferroli air purifier FAP-48D
The Ferroli air purifier is the essential solution to protect the health of every family in the face of increasing environmental pollution and epidemics. Ferroli air purifier FAP-48D with many filter levels such as raw dust filter, activated carbon filter, toxic gas filter, HEPA filter, ionizer to help filter out all dirt, irritants, viruses, bacteria, pollen , odors, harmful molecules, ... bring a fresh atmosphere to the whole family.
Four-level filter-set
The 4-level filter includes raw dust filter, activated carbon filter, toxic gas filter, HEPA filter, filters out raw dust, fine dust, odors, pollen, toxic gas, viruses, bacteria.
Raw dust filter
This is the outermost layer of the filter. The effect of this filter is to remove dust particles with a size of 500 micro meters or more such as dust, bugs from pets, large dust, animal hair, ...
The second filter is the toxic gas filter, in the air such as poisonous gas from interior paint, gas, Fomaldehyde is often abundant but difficult to remove completely. If exposed for a long time, it will cause harm to the body. The Ferroli air filter's toxic air filter removes all toxic gases from the smallest amount of air in the air.
Hepa Filters
This micro-filter can remove irritants, viruses, bacteria and microscopic dust particles, pollen and harmful molecules.
Activated carbon filter
Activated carbon filter is a collection of tiny holes filled with coconut shell activated carbon particles - the best activated carbon today. With this special design, Ferroli's activated carbon filters have an extremely large absorption surface, making them easy to contact and eliminate odors, toxic fumes and toxic organic molecules such as Formaldehyde, benzene, etc. ...
Air quality sensor
The Ferroli Air Purifier FAP-48D is equipped with an air quality sensor that quickly detects dirt that exceeds the safety threshold and adjusts the suction capacity to quickly remove odors and dirt. After removing and cleaning the air, the unit will switch to lower mode to save electricity.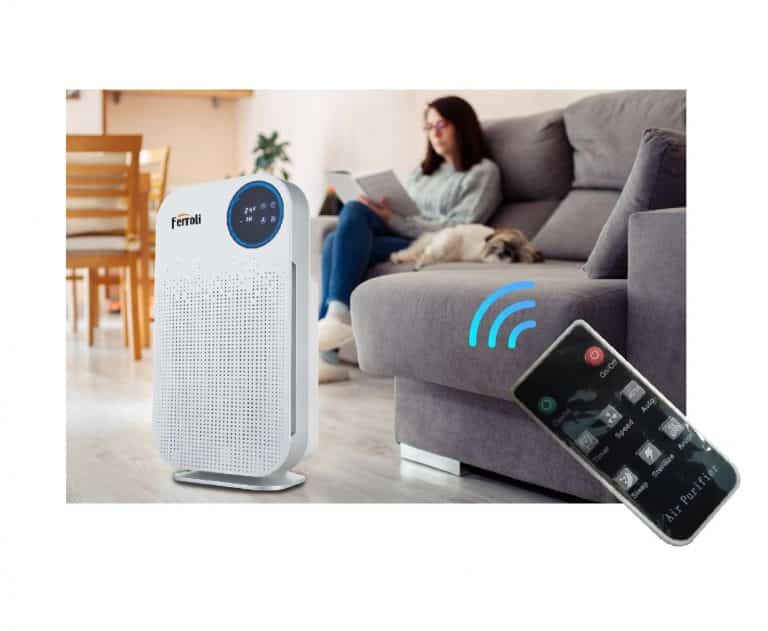 Remote control
With the compact remote control, users can control the Ferroli FAP-48D air purifier remotely, more conveniently, quickly and efficiently for the user.
Korea ionizer technology
The Korea ionizer technology of the Ferroli air purifier FAP-48D helps to create a negative ion beam with a high density of 1,000,000 ions / cm3, which is the highest density available today. Negative ions will find and attach to positively charged magnetic parts which are pollutants, odors, mold, bacteria ionize them and clean the air. With this ion density dirt, bacteria, viruses will be ionized and destroyed faster and more. The air will quickly become fresh, shorten the operation time with high capacity to save more electricity.
Filter condition control
The flashing indicator light displays immediately on the screen when the filter is needed to help users take initiative in cleaning and changing the filter.