SUPER DURABLE TITAN RESISTANT
During the operation, the container is often corroded by water and oxidizing substances, so it is easy to leak or puncture. The Ferroli tank has been improved on titanium enamel technology, thereby helping to ensure high durability, shock resistance, and impact resistance. Warranty time up to 8 years.
Earth leakage circuit breaker (ELCB)
Electrical leakage protection (ELCB) is a safety device that will disconnect the device from the electrical circuit whenever an electrical leak occurs through the human body when it touches electrical parts of the device.
LED SCREEN DISPLAY INTERPRETATION
The LED display shows the temperature accurately and clearly. Users can easily choose the right temperature, avoiding the temperature that is too hot that burns the skin or is not hot enough to use. 
.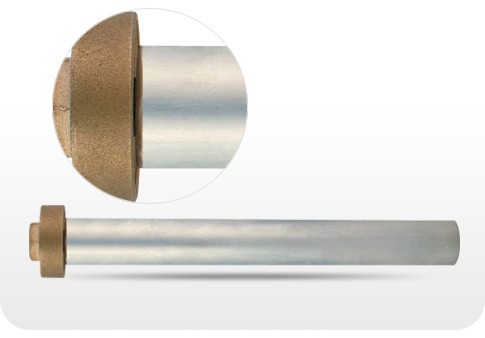 Large magnesium anode, stand alone
Magnesium anode can be changed easily without disassembling the heating element, avoiding the opening of the flange that is always risky for the water heater performance. The residual of magnesium anode will not attach the heating element. It means longer life for the heating element. The heating element also will not corrode the magnesium anode. It will increase the life of the magnesium anode, and then by longer lasting life of the glasslined tank.
Super durable enameled rod
Enamel technology is researched to prevent plaque, reduce the harmful effects caused by water sludge, ensure that the thermal efficiency is always maintained parallel to the life expectancy.
Third pipe for drainage
Cleaning the tank has never been easier, users can manually remove a valve, which allow draining of any silt or debris, and rinsing of the tank without the need for service call.
Unbreakable thermometer in ABS plastic
The most outstanding feature of the ABS plastic shell is its high resistance to the impact of foreign forces. Ensure the product is durable, beautiful, and safe for devices. components inside
.